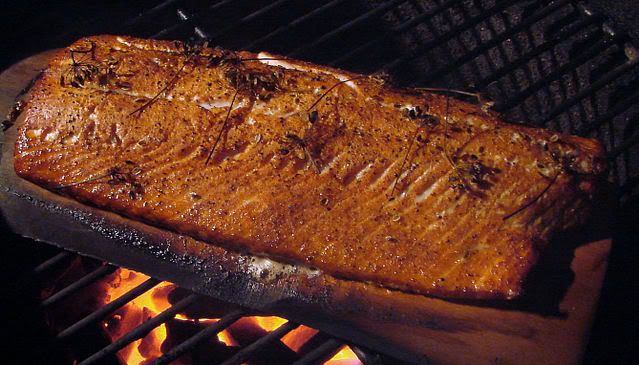 I eat a lot of salmon, these two cooking methods are a favorite at my house and once you see how I do it, I hope salmon will be a regular cook at your house. Grilling salmon is very easy, a fast cook, and the fillets can be flavored a number of different ways. Planked salmon is just as flavorful but it takes a little more preparation, a little more time, and of course.... a plank. The presentation of salmon on a plank is another plus.
For either method, I like to start off with a full side of salmon with the skin on. When you are at the market your selections will be wild caught and farm raised, plus you may see particular species (like Sockeye, King, Copper River or Atlantic) during the year. In a perfect world we would all have a good fish market and access to fresh, wild caught salmon at a reasonable price. Many of us are limited to shopping at a supermarket and sometimes have to consider farm raised salmon as an option. (If your only option is frozen salmon try to buy vacuum sealed pouches).
Whichever way you choose to go, look for the following:
1. A shiny skin with tight scales
2. The flesh should give lightly when touched, but spring back into shape
3. The fish should not smell "fishy", in fact it should not have a smell at all. When you select your fillet, ask the counter person to pass it over to you to smell, this is not an uncommon request.... I do it every time I buy fish.
4. Make your stop at the fish counter is the last stop before heading home. You need to keep the fish cold. During the summer take a cooler with you to the store.
Okay now you are back home and have this big fillet. First rinse it in cold water and pat dry with paper towels. Feel with your hands from the tail toward the head, looking for pin bones. If you feel one, they will stand up and can be pulled out with a pair of pliers or forceps. Next, trim off the belly section. It is really thin and also very fatty. Lastly, decide how long you want the fillet and cut the tail end off if necessary.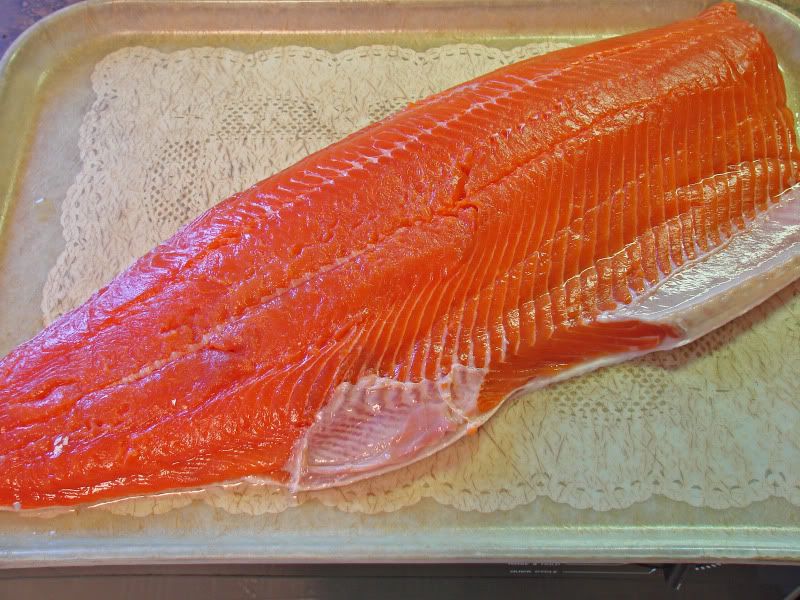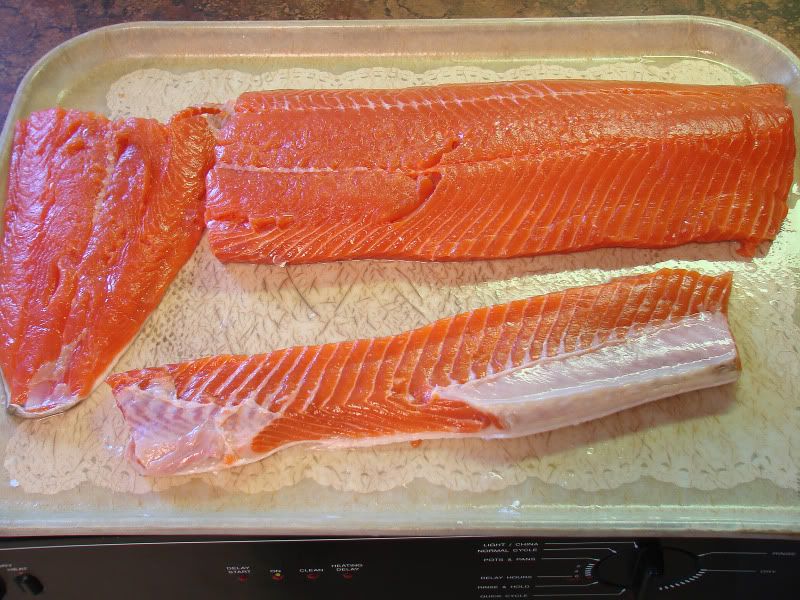 I prefer to buy fish the day I cook it, but if I hold it overnight I will put some ice in the bottom of a sheet pan and place the fillet on top, then cover loosely with plastic and put in the fridge.
GRILLING is the easiest way to cook salmon. Season your fillet with what ever you like. Pepper, lemon pepper, Canadian Steak (Montreal) Seasoning, brown sugar, maple sugar, or rubs like Dizzy Pig Raging River or Dizzy Pig Tsunami Spin. You can also top with fresh herbs like dill or basil, lemon slices are also a nice touch. I prefer a raised direct set-up and pit temps around 325° to 350°. I oil the skin on the fillet and wipe the grate with an oiled paper towel. I never turn my fillets, but will rotate the grate if needed to balance out the doneness. My choice for flavor woods are alder and apple. I go pretty light with the smoke.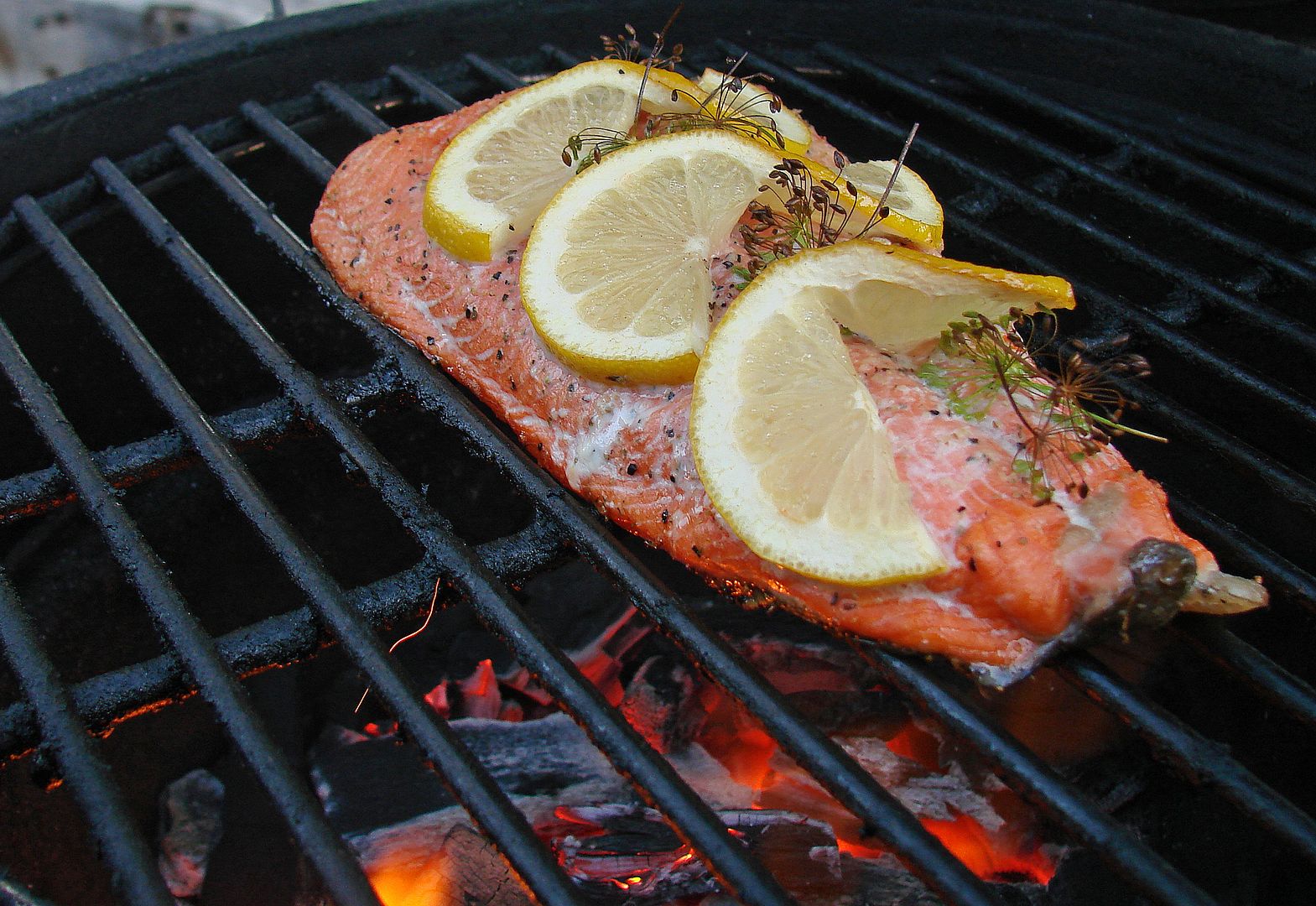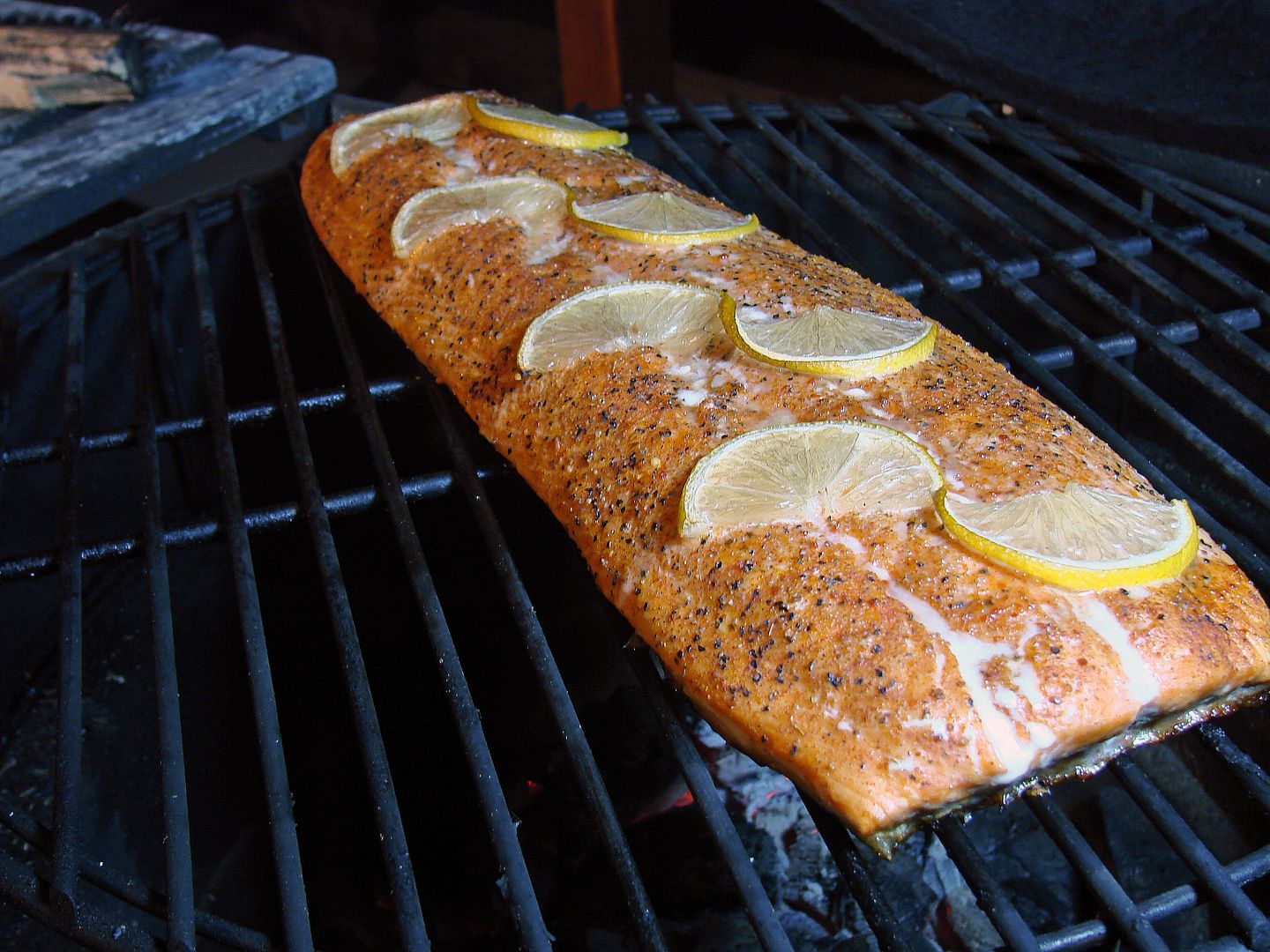 PLANKING needs more prep time. I prefer alder or apple planks for all seafood. Cedar planks are too aromatic for me, I grew up in the Rocky Mountains and have cooked way too much over pine coals. Your seasonings can be any of the things mentioned above. About 3 hours before your cook, soak the plank.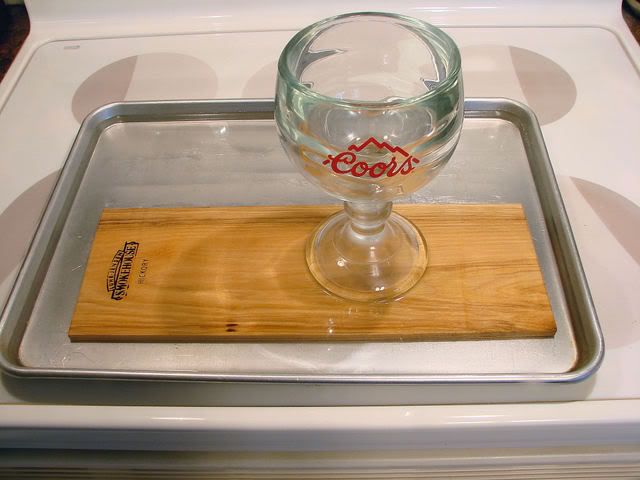 My set-up is a direct cook over a hot fire. My pit temps are 350° to 400°. Dry the plank and oil the side you will use for cooking. Place it on the grate for 4 minutes to preheat it. Then lightly oil the cooking face of the plank.
TIP: Preheating planks cleans the cooking surface of the planks making them safe for food, it also allows them to take a little oil easier on the cooking face (some plank cooks will flip it after 1 minute, and wait several more minutes for the downside to char). But the best benefit to preheating the plank is to give you a head start with the envelope of smoke you want bathing your fillet, it will already be smoking when you slide your fillet on. If you go straight to the cooker with the plank and food, the food begins to cook without the smoke flavor.
Oil the skin of the fillet, season it, then add it to the plank. Your fire needs to be hot enough to allow the plank to smolder, which will bathe the fish in an envelope of smoke. If your fire is too hot, it will catch the plank on fire. If this happens, just close your vents. I keep a spray bottle of water nearby in case I have to squirt the edge of the plank. This fillet has a pesto slather.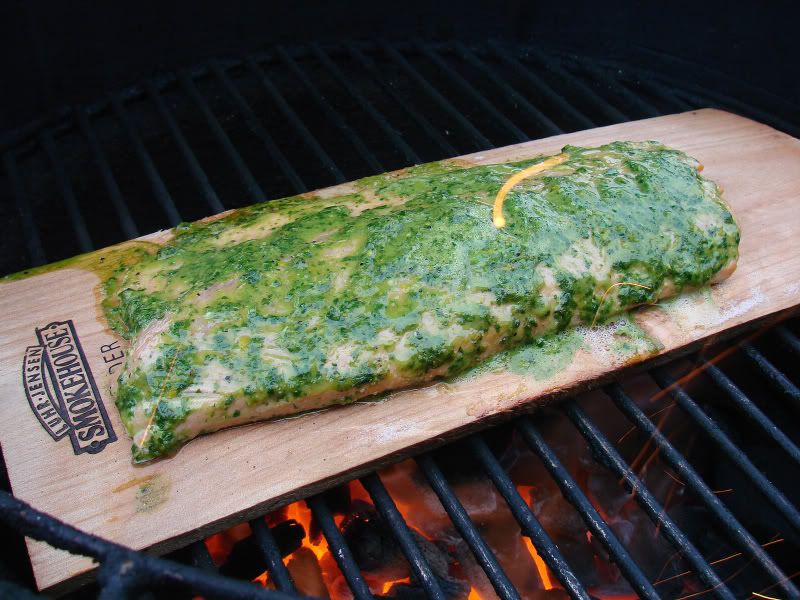 After a few minutes, you can see the fish is cooking nicely. A little flare up is common if you have the cooker lid open too long like I did here to take a picture.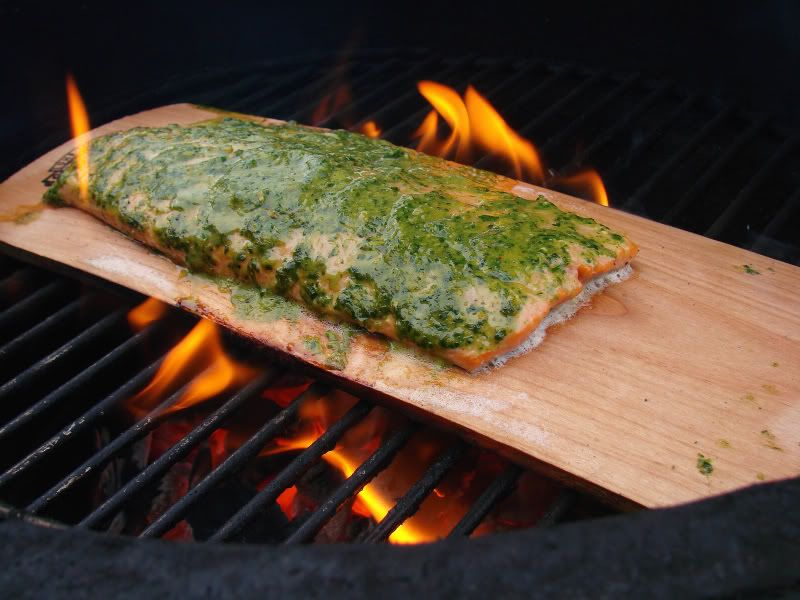 I left the dome open another 30 seconds taking pictures and the plank flashed. All I did was close the lid and the top vent and the flames choked themselves out.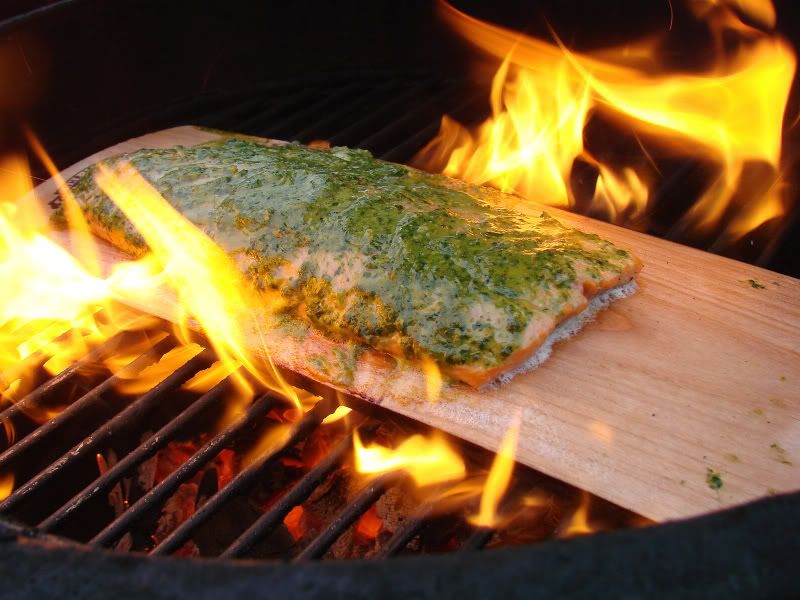 If you can only find skinless fillets, just trim a piece of parchment paper to simulate the skin, oil it and place it on the plank along with the fish. This will allow you to remove the fillet easier, and will hold some moisture just like the natural skin does.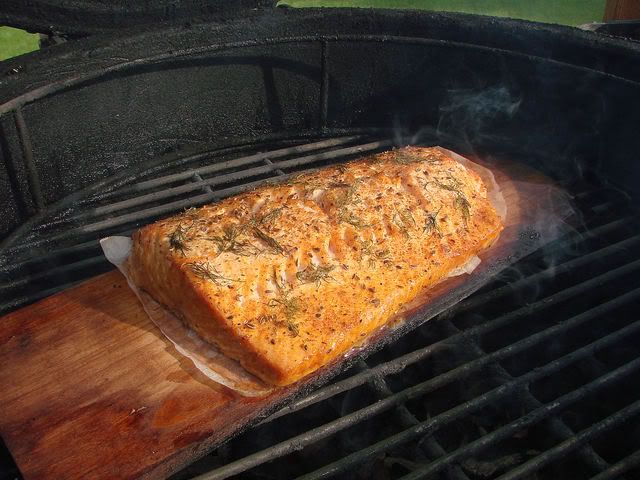 DONENESS is the easy part of cooking salmon. It will tell you when it's done. The signal to look for is the albumen (the white fatty stuff) to start weeping from the flesh. When you see that, check the firmness and take an internal temperature. The USDA recommends an internal temperature of 145° for fish. I pull mine off the cooker in the high 130°'s or no higher than 140°, and I expect it to rise 5 or 6 degrees while resting.
TIMING will be different on each fillet, and different between species due to the differences in thickness, weight and also in fat content. You must cook by sight, feel and internal temperature. I allow about 15 to 20 minutes when grilling, and 20 to 30 minutes when planking.