When we talk or read about brisket, it's hard not to have a mention or two about Texas. More specifically, BBQ joints in Texas. Other things like big steel or brick cookers, the perfect "low and slow" pit temp, a secret rub, and of course the two biggies ….. the foil debate, and whether to use sauce or not, always seem to come out. Well, if you are looking for any of that in this brisket write-up, sorry you won't find it. I recently asked Goose, who is a regular on The BBQ Brethren forum, to share some of his findings on high heat brisket cooking. Although it's not a new method (competition cooks do it, and some very famous joints in Texas have cooked brisket at high temps for years) it is a technique that is new to many backyard cooks. Guest Pit Boss Goose makes it look easy.

Goose has an arsenal of cookers, and for this write-up he is using a Baby Stumps which is a high end box cooker made by Stump's Smokers Inc. Your cooker may or may not use a water pan. Your cooker may also require the brisket to be turned more frequently, or possibly no turning at all.
~thirdeye~


Goose's Hi Heat Brisket
So what's the kid from New York City going to tell you about brisket that you don't already know? BBQ in the north is not common. Good BBQ here up north is especially uncommon. The reason I am mentioning this is that I am not someone who grew up in a BBQ culture. I think this is an advantage to some extent, I did not have to subscribe to or overcome any bias to do it a certain way. I was free to develop my own tradition, drawing on what I thought worked and what I liked. My first real Q was from a friends homemade stick burner. With Toms' support and encouragement I began to BBQ. I also found the BBQ web boards.
I tried to analyze the techniques and processes I had read about. I spoke to others whom were BBQing. Tom would always say when he answered my panicked early morning calls, "Relax its just BBQ". It took a while, but as I got my feet under me and started to have some success, I realized he was right. So today I keep it simple, I don't analyze the process too much, I don't fuss with it. For me BBQ is just meat, fire and wood-smoke.
The Meat:
I try to get a fresh, flexible whole brisket, as large as I can fit on my Stumps Baby. I don't worry too much if it's a little long, it will shrink quickly when it starts to warm up. I wash and pat dry the brisket. I trim the hard fat to 1/2-3/8 inch or so thick, better to leave some extra fat on than to take too much off.
The Rub:
My rub for brisket is always about 2 parts coarse pepper to 1 part medium coarse sea salt. I add some dry mustard and some red chili pepper in the rub for color.
I rub the brisket down gently, paying particular attention to the ends, sides and any cuts or cracks. I use a restaurant bus tray with a wire rack in the bottom. It captures the mess and makes moving the brisket around easy. Cover and put the brisket away overnight in the refrigerator. I usually prep one day, then cook the next.
The Fire and Wood:
I pre heat the Stumps Baby to 275 until I get very thin smoke and the box temperature is very stable. I think this is an important step, make sure your smoke is not acrid. Smell it and pay attention- if it burns your nose it will taste the same. I burn RO lump or Wicked Good lump charcoal. I add 2 baseball- sized chunks of wood to the ash pan, one of black cherry, the other white oak. I have had very good luck with hickory and use it when it is available to me.
The Cook:
If the rub seems thin or has been knocked off - I reapply before I put the meat in the smoker. Place cold meat fat cap down, (or facing the heat in your cooker.) I put a tray of water on the bottom of the smoker where the outlet for the firebox is located. Try to place the tray so fat does not drip into it. If fat collects in the tray it can go on fire. Don't open the cooking chamber after this step.
A couple of hours into the cook I fill up the charcoal chute add a couple of more chunks of wood to the ash pan. I raise the temperature to 325. Don't open the cooking chamber.
After 4 more hours (now 6 hours into the cook), take a look, flip the meat - check the meat with your probe. I use a broken thermometer probe for this. The expression "it goes in like butter" captures what you are looking for. The resulting probing will let you know how much longer. This is where your experience comes in. The brisket can go from almost done to done very quickly at this stage. So be ready.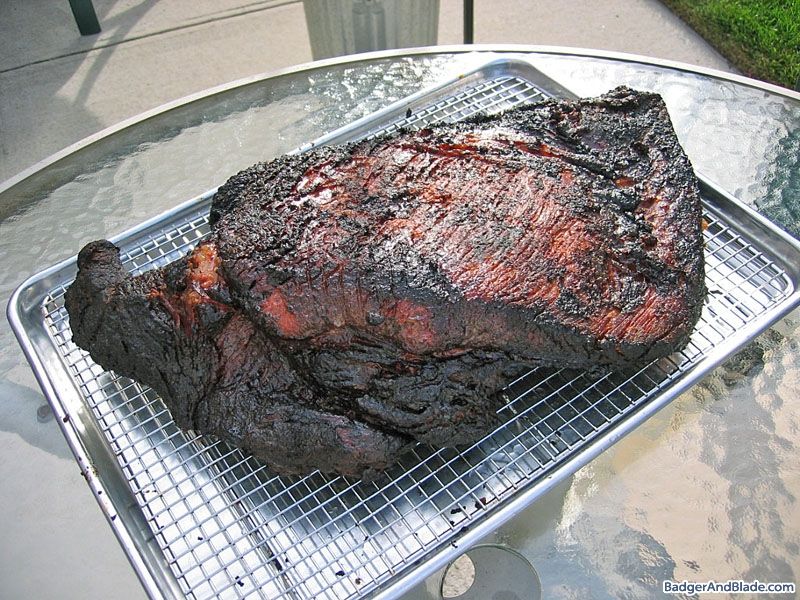 When the meat is ready to come out of the cooker I place it on a baking tray with a wire rack and tent some foil over it. Wait at least 2 hours before slicing.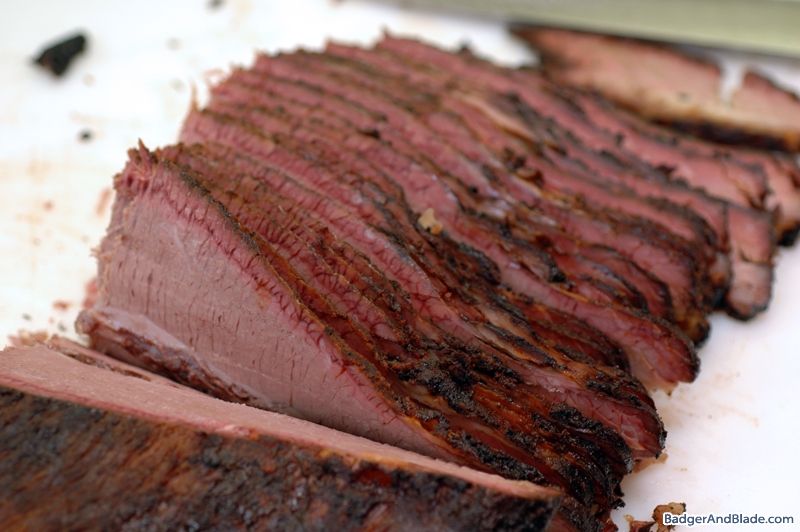 No mater how great your brisket is a dull knife will not show it off to its best advantage. This is of course, most critical to you men and women who are competing. Your knife should be shaving sharp. A good slicing knife is a tool and an investment as well as a joy to use.

Is this the only way to get a great brisket? No, I don't believe so. Is it the simplest? Well that may be true. It does work well for me and it has made BBQ a lot more satisfying and relaxing. Give it a try. (But don't open that door.)

Enjoy,

Goose