Sloppy Joe's are Americana at its finest. I was first introduced to them in about the 3rd grade and they were steamed ground beef, which was lightly seasoned.... mixed into a ketchup base. They were pretty bland. In the '70's some of the local drive-in's (aka fast food joints) served pizza burgers, and taco burgers, which were the same concept just different seasonings and toppings.

Whenever I would make Sloppy Joe's at home, the recipe was never written down and each batch of Sloppy Joe's was a little different. In 2008 I started formalizing my recipe and have updated it a few times. Below is now my official recipe for a jazzed up Sloppy Joe. I serve them from a Crock Pot at larger events, pot lucks, or at work using regular sized hamburger buns and a fork.


Sloppy Joe's ~ thirdeye Style
10 lb. ground beef
Dry Ingredients:
2 tbsp chili powder
3 tbsp black pepper
1 tbsp crushed red pepper
1 tbsp kosher salt
5 tbsp granulated garlic
cayenne to taste is optional
Fresh Ingredients:
5 stalks of celery diced
2 green peppers diced
4 onions diced
diced jalapeno peppers are optional
minced garlic is optional (you may want to reduce the amount of granulated garlic)
Sauce Base:
1 cup ketchup
3/4 cup brown sugar
1/4 cup red wine vinegar
1/2 cup BBQ sauce
2 - 6oz cans tomato paste
1/2 cup yellow mustard
1/4 cup spicy mustard
1/4 cup Worcestershire
1 can beef broth (start with 1/2 can, reserve the remainder and add later if needed)
BEEF PREP - This first step was inspired by Mrs ~t's~ method for cooking pork for her championship green chile recipe. Spices are sprinkled atop ground beef which is then roasted. The heat and rising fats wake up the flavors of the seasoning and they form a light crust. Place ground beef in roasting pan(s) and sprinkle all dry ingredients on top and brown in a 375° oven for about 1/2 hour. The beef will not be fully cooked but will finish during the next step. Here is a visual of what I'm talking about, the raw burger is seasoned, then baked WITHOUT mixing the seasoning into the meat.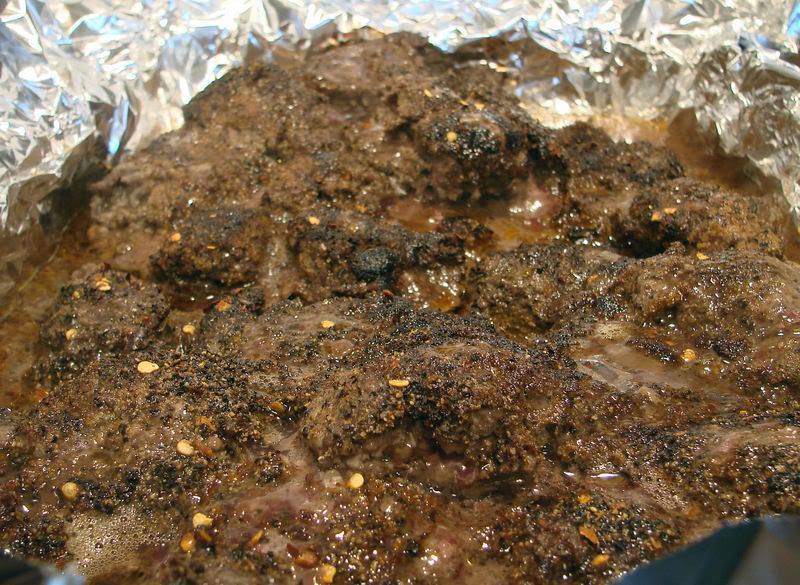 ASSEMBLY - Saute celery, green peppers and onions in Nesco roaster or large stew pot. Combine all the sauce base ingredients in a large bowl and blend. Add the browned beef and some of the pan drippings to the roaster with the sautéed veggies. Add the sauce base. Mix well and cook at medium heat for 1 to 1-1/2 hours. Add the reserved beef broth if needed for the consistency you are after. I like the mix slightly sticky so it hangs on a bun.
SERVING - These are best on a toasted bun, condiments are sliced onion, pickles, mustard and grated cheese. Potato chips or potato salad is the perfect side dish.