Turkey is good just about anytime but a whole bird is not always a practical cook. Turkey breasts are featured on their own page, now I want to visit about drumsticks, specifically smoked drumsticks. More specifically, drumsticks which have been cured in a brine then hot smoked. Instructions for both fresh and store-bought smoked drumsticks are below.


These have a variety of uses. Because of the smokey flavor and ham-like texture the cure imparts on the meat, these are very good for flavoring when cooking beans or greens. When the drumsticks are cooked in beans, the meat will be fall-off-the-bone tender. It actually resembles pulled pork. Following smoking, they can also be braised for an hour until the meat is pullable and used for sandwiches or in soups or salads.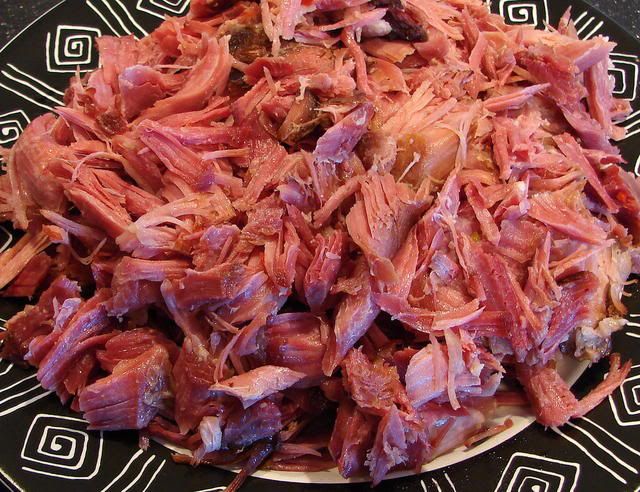 Fresh Drumsticks


Fresh turkey drumsticks

1 gallon water

2/3 to 3/4 cup of Morton's kosher salt

2 tablespoons Morton's TenderQuick

1/2 of an onion, sliced

several cloves of garlic, sliced

handfull of brown sugar

cracked pepper or pepper blend

peppercorns

Heat the water and and dissolve the salt, sugar and Tenderquick. Add onion, garlic and pepper. Allow to cool. You can hold back on some water and add ice to speed up cooling. Submerge and brine drumsticks in a non-reactive container for at least 12 hours and up to two or three days, refrigerated. The longer the time, the more pronounced the flavor and texture change from the curing agent. The longer cure will also result in a saltier finished product. Following brining, rinse and soak in cold water for 1 to 3 hours. Dry off and refrigerate for at least 4 hours, overnight is better.

Smoke at 225° to 250°. I do them until they are at least 175° to 180° internal. Plan on 3 to 3-1/2 hours in the smoker. Because of the brine with Tenderquick, the longer times using lower temperatures are quite safe. Check the internal temperature after 90 mminutes and adjust your pit temperature if needed.

Store-bought Smoked Drumsticks

This is a real time saver! If you can buy the commercially smoked drumsicks at the market, just do a second smoke on them to really wake up the flavor. These will only take around 2 hours or so at 225°.
Braising & Pressure Finish
Braising is a long, slow cooking process, which won't work if you try to cook too quickly, or at a high temperature. On the stovetop I guess you could describe it as as "below simmer", and in the oven (which is the best) try 225° to 250°. Again you want the liquid just below a simmer, so if you use a pyrex baking dish you can see what is going on. At my altitude, my boiling temp is 203°, so your braising temps may be different than mine.
Any liquid including water will work, a diluted broth is a good starter. You need a baking dish or a large skillet, add the smoked drumsticks, then add enough liquid to bring the level about 1/3 of the way up the meat, cover the skillet or baking dish and cook until just tender. (Use a toothpick to check tenderness) Don't let the liquid cook off, you can add some HOT liquid if the level gets too low. Save some of the liquid to put back into the shredded turkey if needed.
Another good way (and quick too) to finish these off is with a pressure finish in a pressure cooker. I arrange them meat end down, add 1-1/2 cups of water or broth and seal the pressure cooker. I use 5 to 6 minutes of pressure time, with natural release. Natural release means letting the pressure cooker drop on it's own at the end of the pressure cooking time. This might take 10 minutes or so, but it does not shock the meat like the quick release method would. With a pressure time this short, even one minute will make a big difference in the finished product, so you might want to experiment to get it dialed in for the texture you want.