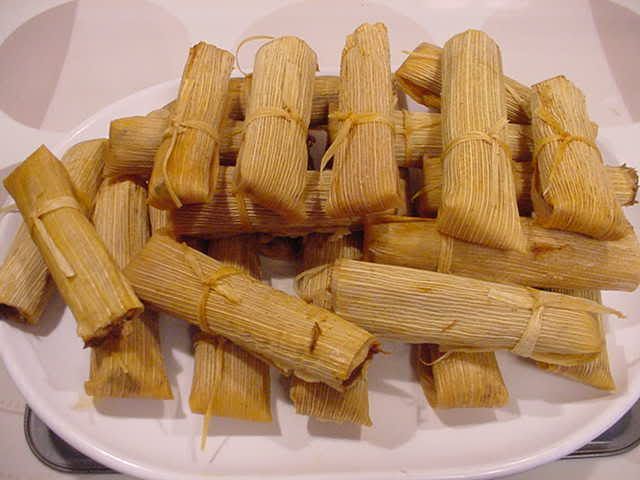 I grew up eating homemade tamales and I still make several batches throughout the year, especially around Christmas. A dozen or two make excellent gifts. They are good fiesta food and I like serve them as an accompaniment to barbecued meats or as an appetizer. They balance perfectly with a bowl of chili. Tamales are easy to make, keep well in the refrigerator and freeze well. They are a tube of corn flour dough, called masa, with a filling of your choice wrapped in a corn husk and cooked by steaming. There are several varieties, and can be filled with beef, chicken, pork, seafood or cheese. Roasted chiles, fresh herbs and corn cut from the cob are among the things that can be added to the filling. Desert tamales are also popular. Widths are a personal choice. Some use banana leaves instead of corn husks.

I favor the ones made in Northern Mexico and Southern Texas. They are not quite two fingers wide, have thin masa and a spicy pork or beef filling. A good tamale is known by its wrapper and I sometimes tie them closed with a strip of corn husk, mainly for presentation. The ties can also be used to identify different fillings.

Here is how I make pork tamales.

HUSKS
Bags of dried corn husks are available in most markets in the Mexican food section. They need to be soaked in warm water for about an hour, separated and rinsed clean of any dried silks, and kept moist for rolling in a dishpan.

FILLING
Three ground chili powders (with no other spices added) and one chili powder blend are used to get a traditional flavor footprint that is sweet, smokey and hot. The total amount of the chili powder is 1 cup + 2 tablespoons. Ground chili peppers and blends can be found at www.penderys.com if you can't find some local substitutes. The filling must be quite robust because the steaming and the masa will buffer the flavor and the heat factor a little.

7 or 8 pounds of pulled pork butt, medium to fine shreds. (The pulled pork can be prepared on the barbecue, roasted in the oven, in a Dutch oven, or a pressure cooker. Pressure cooking is my favorite because it is a real timesaver and the broth is concentrated and wonderful).
¼ cup Chimayo chili powder
¼ cup Tularosa chili powder
2 tablespoons Mulato chili powder
½ cup Top Hat chili powder blend
¼ cup cumin
1-1/2 tablespoons crushed tepin peppers.
1 tablespoon Mexican oregano
2 tablespoons salt
6 tablespoons fresh garlic, chopped
1 tablespoon garlic powder.
Chicken broth & water - about 4 cups total

Place the pulled pork in a large Dutch oven or roaster. Add all of the ingredients except the broth and water, mix in well. Add about half of the broth and water, mixing in well. Bring this mixture to a simmer in order to reduce the liquid, stirring occasionally. Add more liquid at least once more and continue to reduce until the filling is just a little soupy, then set aside to cool. Once the mixture has begun the first reduction, the Dutch oven can be transferred to your cooker, at around 275° grate temperature, to receive a little smoke flavor during the final stages of the reduction.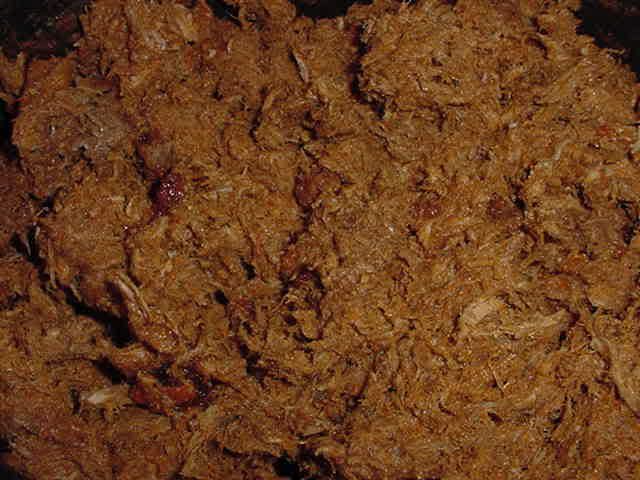 MASA
Masa is basically made by beating ground corn flour into lard, forming a dough. Buying fresh prepared masa from a Mexican grocer or tortilla shop is preferred. If fresh is not available, dry masa mixes are available in the Mexican food section of most supermarkets. Don't forget to pickup some lard.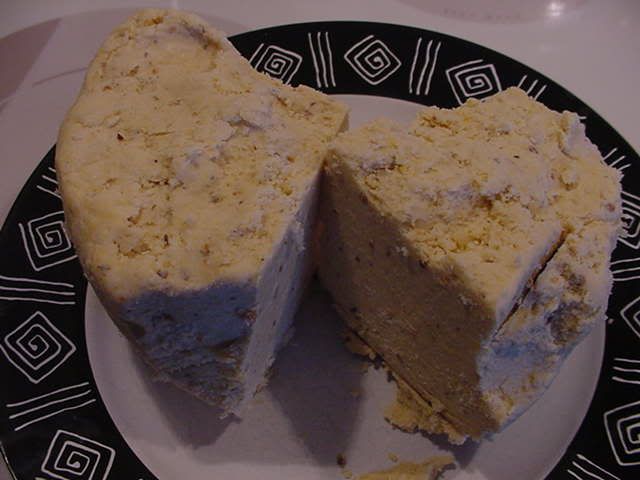 Fresh masa keeps in the refrigerator for a few days and also freezes well, it comes in 1 or 5 pound blocks. Add warm water or broth and work into a dough with a spongy texture. For the mixes, follow the directions on the bag. The dough needs to be spreadable and can be moistened during the assembly if it becomes too stiff.

ASSEMBLY
Everyone has a different masa spreading technique and have a favorite tool. I like a triangular shaped pie serving utensil. A wide putty knife or small triangle trowel works well too. It is best to have an assembly line with one person spreading and another filling and rolling. I like to use a big cutting board for the assembly. And work at the kitchen table. A glass of warm water is handy for dunking the spreading tool.

Remove a few husks from the dishpan and shake off any water. Tear them so that they are about five fingers wide. Husks have a coarse side and a smoother side. Lay one husk on the work surface and spread about 2 tablespoons of masa onto the smooth side of the husk forming a thin even layer. Add about one fingers width of filling onto the masa and roll the tamale closed, then fold the narrow end down. These can be tied with strips of husk or stacked on a tray with the fold down.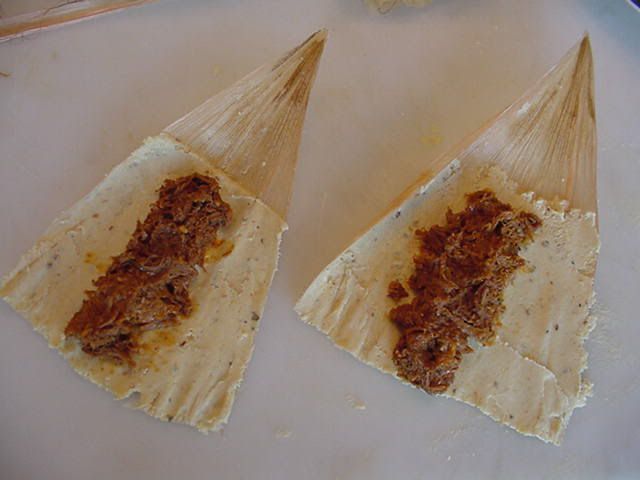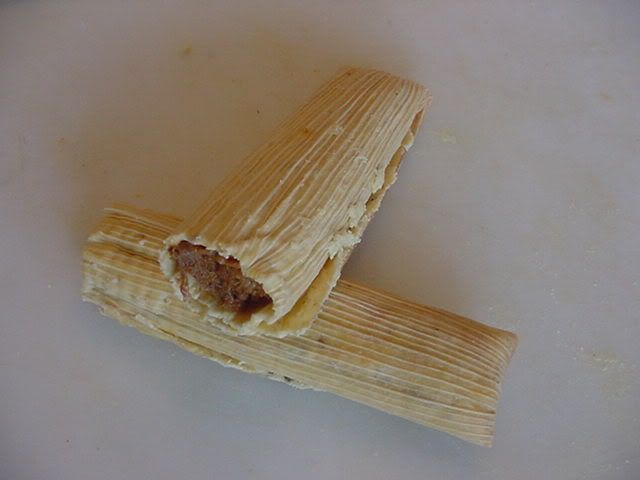 My steamer holds about 30 to 40 tamales. Lay the steamer insert on its side and stack the tamales in, open end up. Tied tamales are easier to load and remove from the steamer. Tip: If you are making a small batch, stack in a few rows, put an empty quart Mason canning jar in the center and continue to stack around the jar. Before steaming, put a few inches of water in the Mason jar.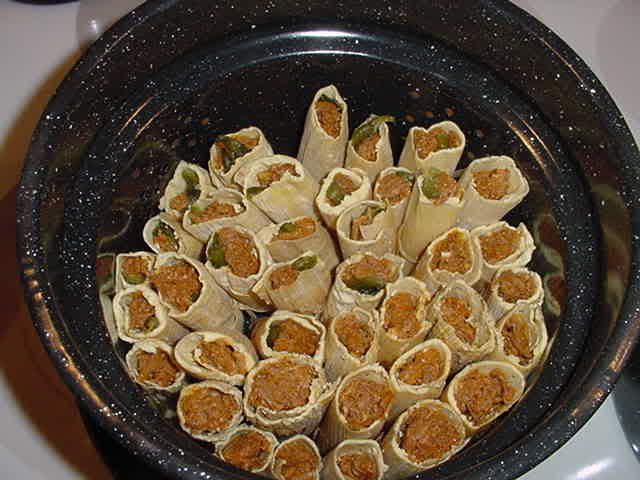 Place a dishtowel over the pot and loosely cover with the lid. This stops condensation from forming on the lid and raining on the tamales. Keep the water at a low boil.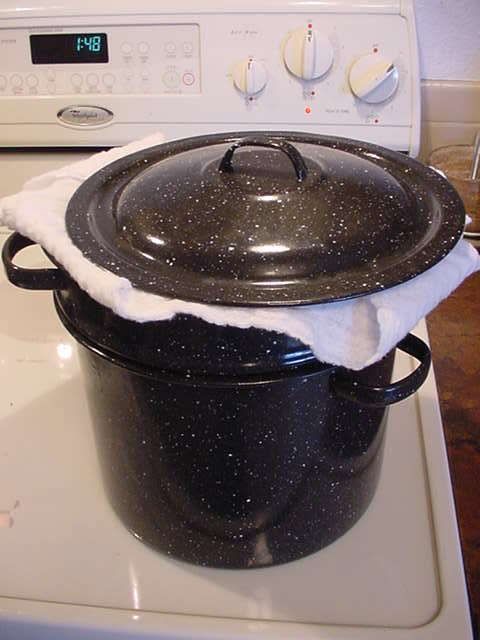 After 45 minutes, sneak a tamale out of the pot and let it cool for three or four minutes. The tamale should separate from the husk and unroll easily (thanks to the lard in the masa). The texture of a properly steamed tamale should be soft but firm. Chances are, the sampler won't quite be done, but it is a necessary test so you don't overcook them. Every ten minutes or so check another. For the size I make, a full steamer takes around an hour to be ready.
To reheat, wrap a few tamales in a damp paper towel and microwave.


__________________________________________________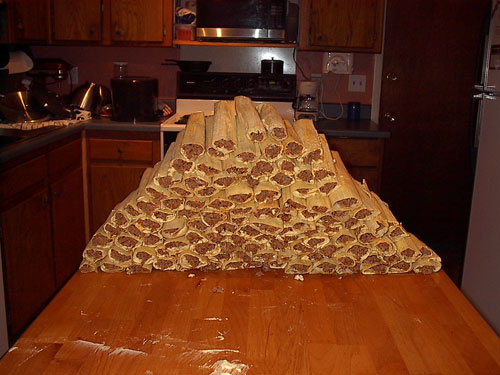 Like the looks of these tamales? There are 110 in this pile! Another Guest Pit Boss,
SmokinCoyote
has a really good how-to page with lots of pictures and has given me permission to post a link to his site.
If you can't find prepared masa, click
here
for instructions on using masa harina, as well as more good pictures and tamale techniques.