One of the easiest side dishes when cooking outdoors are Cowboy Potatoes. Otherwise known as Campfire Potatoes or Hobo Potatoes and probably a lot of other names. They can be as dressed up or as plain as you feel like making them.

The basic drill is to par-boil some 3/8" thick potato slices with the skin on, drain and let cool. Lay them out on a double sheet of heavy duty foil that has been sprayed with Pam or rubbed with oil. Season with at least salt and pepper, add onion slices, garlic or fresh herbs if you like. Add some butter or olive oil. Make a pouch with the foil, sealing the top and one end. Before sealing the last end add 1 to 2 ounces of water or beer then seal. You can make a large pouch or individual pouches.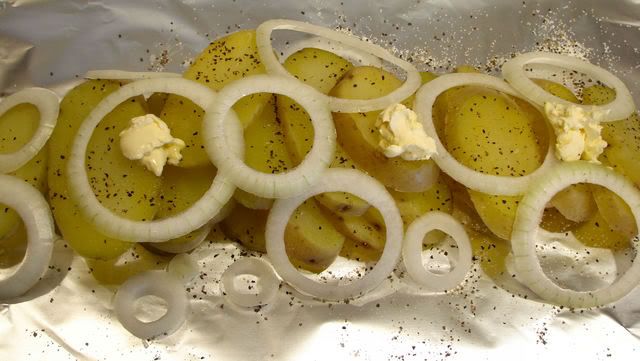 At this point these can be refrigerated or they can go in the oven or on the cooker. If you are making them to eat on a camping trip, they can be heated on one of the rocks in the fire ring. 45 minutes to an hour at 250° will be enough time to warm them up and release the flavors of the onion and garlic. The pouch really doesn't need to be turned over, just rotated end to end and mabye shaken from side to side once.