This is a dish that was inspired by a cream corn served up by Rudy's Country Store and Bar-B-Q. There are numerous locations around San Antonio, my favorite being the store on Highway 151 at the Seaworld exit. It has been several years since I have been to Texas and I understand Rudy's has some franchise stores that have opened as well. I can only hope that the quality of the food has remained consistent.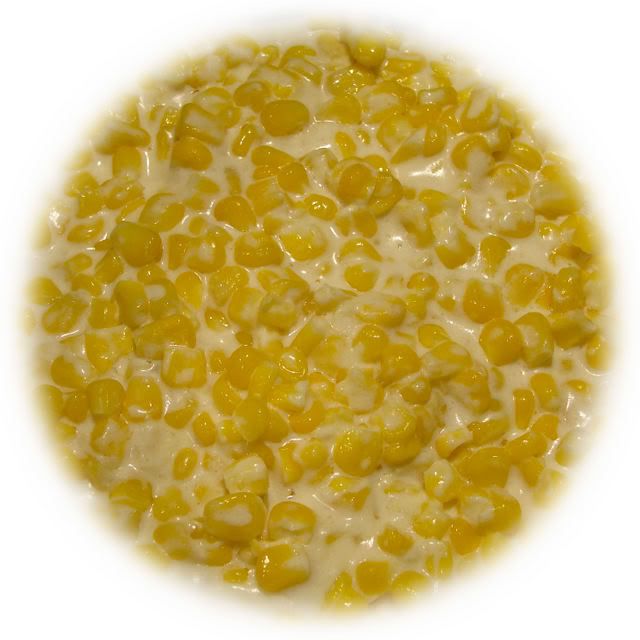 Anyway, like most signature dishes there is some secrecy involved. I once asked the late "Doc" Holiday about his corn recipe and he just laughed and said the secret was all the love that went into it. He complimented me on my cookin' site, then produced a free sample of smoked turkey, thus ending the discussion.

I have a collection of 5 recipes, one of which claims to come from an ex-employee of Rudy's. Some use twice the cream cheese than I think is necessary. Below is my version of cream corn.

2 lb frozen super sweet corn, thawed and drained
As much love as you can spare
1/2 stick butter, cubed
1/2 tablespoon sugar
1/8 to 1/4 cup whipping cream
2 to 3 ounces of cream cheese, cubed
Sea salt and fresh ground pepper to taste

Puree some of the corn to act as a thickener. Add all ingredients except the salt and pepper to a pot and slowly bring up to a low simmer, stirring occasionally. Once the cheese has started to melt, lower the temp and allow the corn to thicken. Add salt and pepper to taste. Add sugar as needed to suit your sweet tooth.

This can be cooked in the oven in a casserole dish or for real large batches use a crock pot.