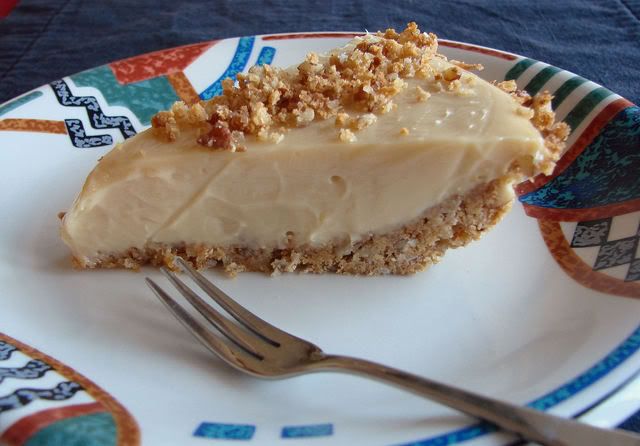 Key lime pie is one of my favorite desserts. The tart flavor goes extremely well after most any meal especially a heavy meal like barbecue. A cookin' buddy and recipe guru Richard, who you may know from his posts on
The Big Green Egg Forum
lives down on the Space Coast in Florida so before the '06 holiday season I asked him for his favorite recipe for this classic pie.
Here is the recipe that Richard sent me. The crust is unique due to the coconut flakes and the chopped nuts. The filling is nice and tart because of the reduction.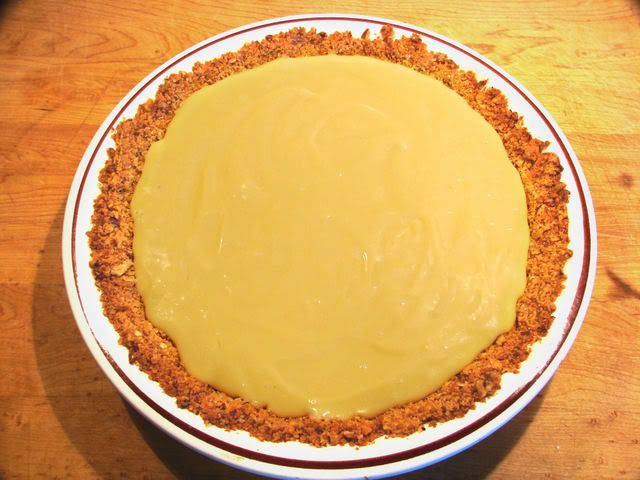 Pie Crust
1/4 cup turbinado sugar
1 cup graham crackers, crushed
1/2 cup pecans, macadamia, almonds, walnuts or a combination, chopped coarse
1/4 cup coconut flakes, chopped coarse
4 Tbs butter, melted
Optional: 1/2 oz of Gran Marnier or Amaretto can be added.
Mix the ingredients and spread around the bottom and edges of an oven proof pie pan. Bake @350°F until lightly brown, 8 to 10 minutes.
Filling
1 Cup Key Lime Juice, Nellies & Joe's Key West Lime Juice
2 – 14 ozs. cans condensed milk, sweetened
3 large egg yolks
Pinch Salt
Place the lime juice in a small pan and heat over medium heat to reduce the volume by half. Strain and cool. Empty cans of condensed milk into mixing bowl and chill. When key lime juice is cool add to condensed milk, mixing thoroughly. Lightly beat egg yolks and add to milk mixture add salt and blend well. Pour into the pre-baked crust. Bake pie at 350° for 10 minutes. Chill 2 hours. Serve with whipped cream. For an extra touch, try a final garnish with mint or spearmint leaves.