A few years back, a couple of days before Thanksgiving a guy on the next bar-stool asked me if I was doing anything new and different for the big meal. My reply was "I always try to do something different, but it's not a good idea to try something new when you are cooking for guests." Well….Thanksgiving morning I broke that rule.

An inspiration from a cookin' buddy by the name of Evans Tabor reminded me to think outside the box. He and his wife enjoy preparing and serving a wonderful brie appetizer cooked on a grilling plank. Evans signs on under the name of Chubby on The Big Green Egg Forum so I had seen some photographs and read praises from folks who have sampled this treat at some of the Eggfests. Here is the recipe the Tabors' use. (In my photograph below, I have made slight modifications with respect to the colors of bell peppers used. I also used some parchment paper to insure easy removal since I was not serving this one on the plank).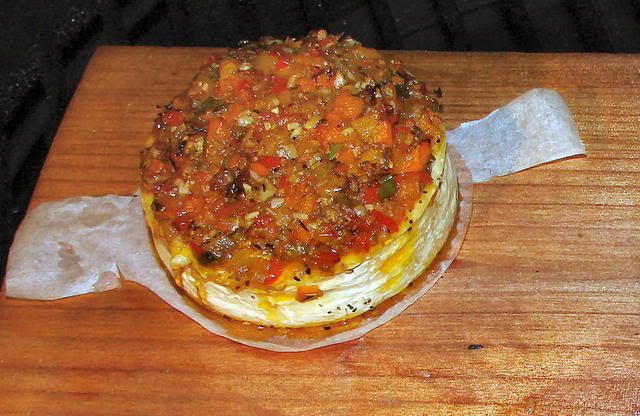 Maple-Planked Brie with Garlic and Roasted
Peppers – Inspired by a recipe found in the "Sticks & Stones Cookbook" by Ted Reader.
Ingredients
1 maple plank, soaked (at least 4 hours)
2 small wheels brie (1/4 lb. each)
1/4 cup olive oil
6-8 cloves of garlic, chopped
2 green onions, finely chopped
1 red bell pepper , roasted, peeled, seeded and finely chopped
1 jalapeno pepper, seeded and minced (optional)
2 Tbs chopped fresh thyme
2 Tbs balsamic vinegar
Black pepper and salt to taste
Procedure
Preheat grill to 400 degrees.
Scrape rind off top of each wheel of brie to expose cheese and set aside.
Heat olive oil in saute pan (or cast iron skillet) and add garlic, cooking until softened but not browned.
Add green onions, peppers, thyme, vinegar and saute for 5 minutes, stirring occasionally.
Remove from heat and salt & pepper to taste.
Place the maple plank on direct grill and listen for it to "pop" (about 8-10 minutes).
Divide the pepper mixture evenly on top of brie wheels and place on plank.
Close lid and bake for 8-10 minutes until cheese begins to melt…
Serve with slices of crusty bread or
crudites
.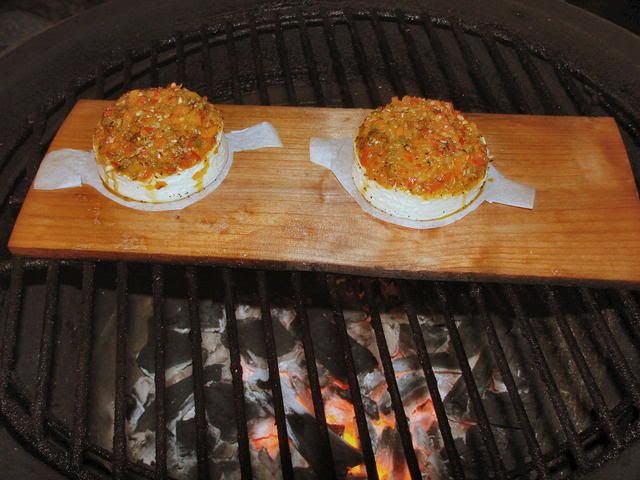 On top of sharing his cooking skills, Evans markets an accessory for the small Green Egg called GrateMates, which allow for a variety of grate set-ups, use of a pizza/baking stone, Dutch oven and even a wok.

Additional Notes on Plank Cooking
Planks come in several flavors like cedar, hickory and alder. I prefer the alder ones for seafood and hickory when I want a stronger flavor. They are available at many stores in the grilling section.
Planks should be soaked in liquid for several hours. Water is the most common liquid, but beer or a wine/water mix can be used too. Start you planks with the cooking side down for a few minutes (just to kill any surface bacteria), then turn over. Paint a coating of oil on the cooking side to prevent the food from sticking. If cooking skinless fillets, a layer of fresh herbs, lemon slices or some crushed garlic can go onto the plank. Heat the plank for another few minutes then add your food. Cook to your desired level of doneness.
Planks can be used several times so following cooking, rinse the plank well and scrub them under warm water. If you want to use soap, DO NOT allow it to remain on the surface very long. You don't want it to be absorbed into the wood.
Vegetables like sliced zucchini, sliced sweet onion or asparagus are wonderful when cooked on planks. You can marinate them for more flavor. Potatoes are also very good, parboil them first then toss with oil and seasoning before finishing on the plank.
Grilling planks are a great way to experiment with flavor and the presentation is very unique.