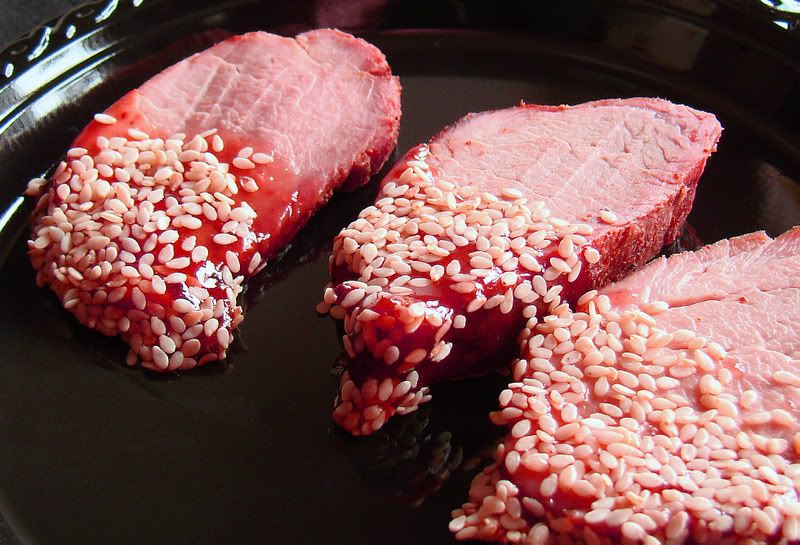 This is a Chinese appetizer that has a lot going for it..... It's flavorful, colorful and very hands-on. It can be served warm, but actually it's delicious when chilled, then set out at room temperature. This means it can be made the day ahead which is a real bonus. You will need to do some planning as this calls for an overnight marinade, followed by grilling and basting, then using a different finishing sauce, then glazing, and served with another sauce for dipping. Relax, the whole thing is much easier than you think, and well worth it.
PLUM PORK
2 to 4 pork tenderloins
Marinade:
5 - teaspoons sugar
1-1/2 teaspoon salt
2 clove garlic, minced
1 teaspoon ginger juice (or use the minced ginger in the tube)
4 tablespoons catsup
4 tablespoons soy sauce
5 teaspoons wine
1 teaspoon five-spice powder
Mix all of the marinade ingredients together, reserve about 1/3 of this for basting during the cook.
Finishing Sauce:

1 tablespoon hoisin sauce
1/4 cup honey
Mix the hoisin & honey together.
Plum Dipping Sauce with Sesame Seeds:

1 12 ounce jar of plum preserves (or jam)
2 tablespoons vinegar
1 tablespoon brown sugar (packed)
1 teaspoon finely chopped dried red chili pepper
1 clove garlic, minced
1 tablespoon finely chopped green onion
1/2 teaspoon ground ginger
sesame seeds
Combine all ingredients for the dipping sauce, EXCEPT sesame seeds, in a saucepan and bring to a boil stirring constantly. Remove from heat and cool. Refrigerate in a covered container overnight to blend flavors. Prior to serving, toast sesame seeds and place in a separate bowl.
Cooking Method:

Make the dipping sauce one or two days before you plan on cooking. Make the marinade and marinate pork for at least 4 hours, or overnight (8 hours) if you wish. Make the finishing sauce while the cooker is coming up to temp, keep at room temperature. The finishing sauce can be warmed slightly or thinned with a little apple juice.
Preheat cooker to 375° with an indirect or raised direct set up. Roast the tenderloins until the internal temperature is around 150°, basting occasionally with the reserved marinade. Turn & rotate as needed. When close to done, baste with the finishing sauce, remove and rest for a few minutes. You can add more finishing sauce to even out the coating. Either ramp up the cooker and briefly move the tenderloins directly over the coals or move into an oven set on broil in order to glaze the meat. Be careful not to burn the glaze.
Let pork cool and cut into thin slices. Serve the plum sauce and toasted sesame seeds along side the sliced pork. Dip the sliced pork into the plum dipping sauce, then into the sesame seeds. Then enjoy.
Two marinated loins ready for grilling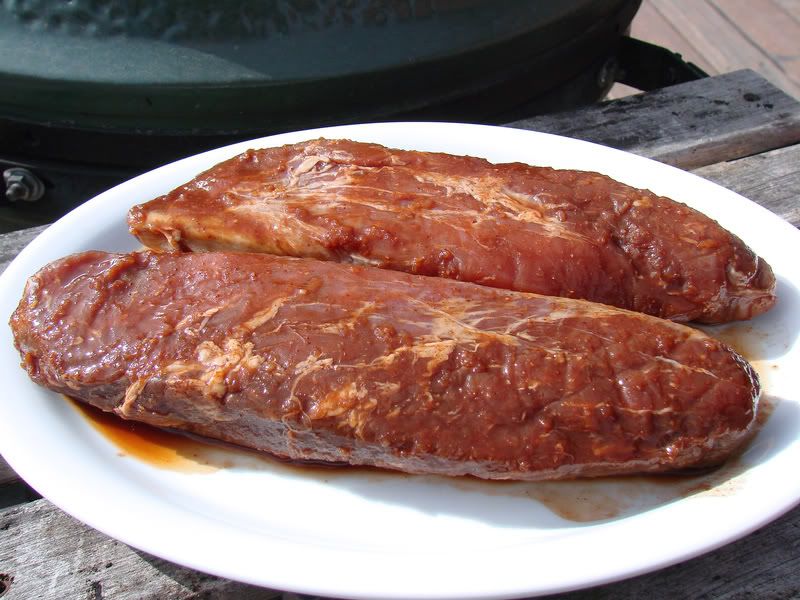 Grilling with the basting sauce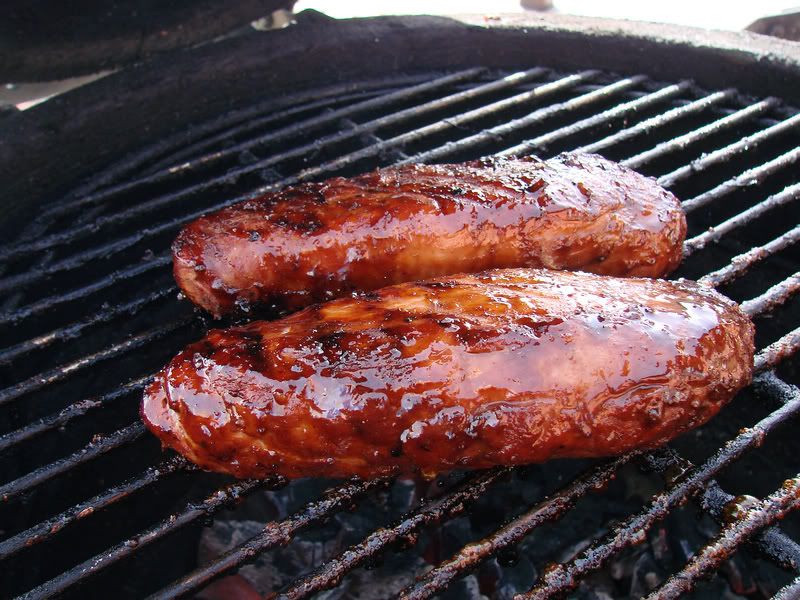 The finishing sauce