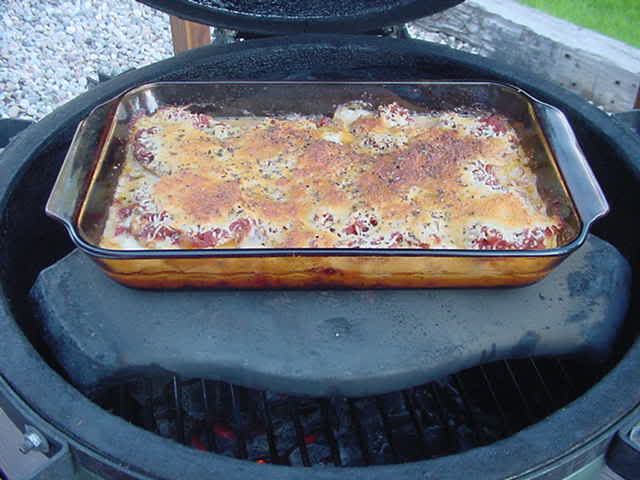 1 medium-large eggplant, peeled
Salt
Pam or spray olive oil
2 cloves garlic, peeled and chopped
1-15oz can diced tomatoes
Freshly ground black pepper
1 teaspoon Italian herbs (dried)
1 tablespoon balsamic vinegar
Olive oil
½ Ib. fresh mozzarella, thinly sliced
½ cup grated parmigiano-reggiano


Cut eggplants into round slices about 1" thick. Place slices in a colander set over a bowl, salt generously on both sides, and set aside to drain for 1 hour.

Fire up the Egg (or other cooker) and allow your fire to stabilize. You will need a indirect set up , plate setter legs down, and a grate temperature of 350°. A light wood will give this dish a "brick oven" flavor.

Meanwhile, heat 1 teaspoon or so of olive oil in a medium saucepan over medium heat. Add garlic and cook, stirring often with a wooden spoon, until golden, 1-2 minutes. Add tomatoes and juice from the can, the balsamic vinegar, Italian herbs, season to taste with salt and pepper.

Reduce heat to medium-low and simmer, until sauce thickens, about 20 minutes. Set sauce aside. Brush excess salt off eggplant, pat each slice dry with paper towels, and set aside. Spray the slices of eggplant with cooking spray or olive oil and fry in a deep skillet over medium-high heat turning once, until golden and soft, 2—3 minutes per side. Transfer eggplant with a slotted metal spatula to a wire rack to drain. Season to taste with pepper.

Spray the baking dish with cooking spray. Spread a large spoonful of sauce over bottom of a baking dish. Cover sauce with a single layer of eggplant slices. Spoon remaining sauce over the eggplant. Add the mozzarella slices and sprinkle with parmesan cheeses to cover the eggplant.

Move to the Egg and bake until sauce is bubbling hot and cheese is melted and golden on top, 25 to 35 minutes.