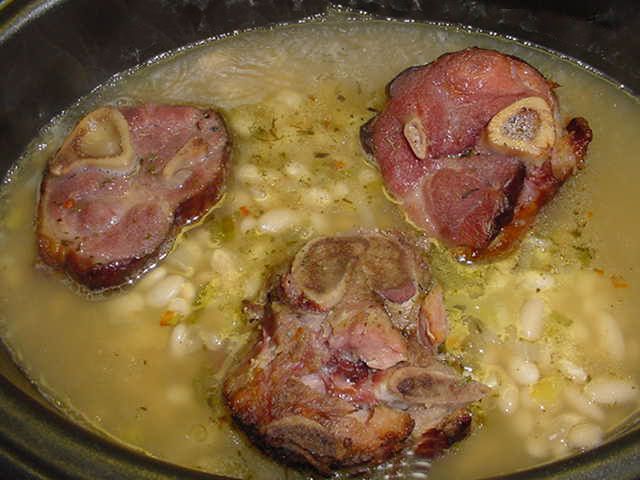 Here is another Great Northern Bean recipe. It is very basic, so anything you feel like adding will most likely work out just fine. Using smoked turkey instead of the ham is an option. Using broth instead of water will make for a richer stock. My comments and any changes to the original recipe are in

red italics

.

The origin of this famous soup is unknown. There are two stories about the first request of this soup in the Senate. Senator Fred Dubois of Idaho and Senator Knute Nelson of Minnesota are both linked to the first request to serve the soup. The Dubois version has mashed potatoes added as a thickener. The recipe served in the Senate today does not include mashed potatoes.
Everyone claims to have a recipe for "Senate Bean Soup". This one is from the famous Belgian cook Jean Debruyn and is prepared every day in the U.S Senate Restaurant. About 4 servings.
SENATE BEAN SOUP

2 cups dried Great Northern (or Navy) beans, pre-soaked in water overnight, then drained.
2 quarts water
2 smoked ham shanks (or smoked ham hocks or ham bone with some meat left on)
1 medium onion - diced
2 green onions (with tops) - diced
¼ teaspoon liquid smoke (only use this if you want extra smokey beans)
¼ cup butter (or 1/8 cup of butter and 1 tablespoon olive oil) I use much less butter than this.
1 bay leaf
2 cloves of garlic – crushed
1 teaspoon black pepper
1 teaspoon summer savory (optional)
1 teaspoon epazote (optional)
salt to taste. Add the salt at the end, otherwise the beans will be tough.

Garnish with chives or chopped parsley.

COOKING METHOD
Melt the butter in a frying pan on medium heat. Add the onions and sauté until browned. Put the beans and the water into a large pot or dutch oven. Add the onions, ham, bay leaf, pepper, garlic and liquid smoke and optional spices. Cover and boil gently until the beans are tender.
The beans can be cooked in the oven, just be careful to adjust and monitor the temperature (250 to 300 degrees) to maintain a gentle boil.
Add a little more water if needed. As the beans become tender, add salt to taste.
Remove the ham and shred the meat, then return to soup.
For a heartier and thicker ham and bean stew simply add more ham and cook down the broth. If the beans become too thick during this stage of cooking, add chicken broth (not water) to thin.