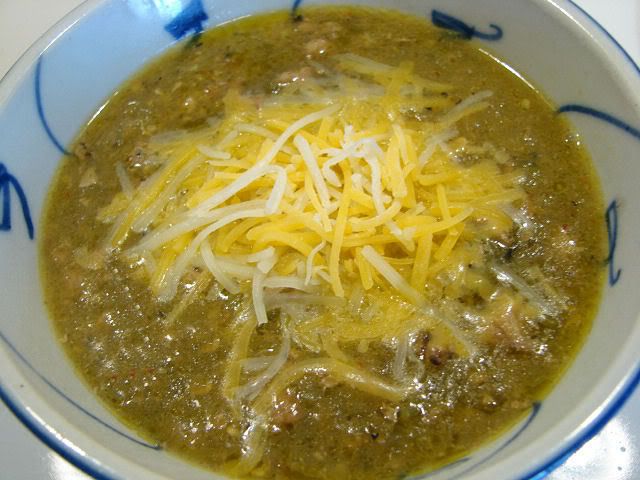 My wife developed this recipe 15 years or 20 years ago and over the years it has undergone several revisions. This chili has won numerous local chili contests and placed either first or second at several regional contests. The recipe is very simple, but still allows for changes to suit to your individual tastes. We like to grind our own pork butt and feel that the key to the success of this chili is roasting the ground pork with the spices on top. Most other recipes just add the spices to the stock pot. Many contest cooks use one or more "dumps" of spices during the cook, but we have found that it is not necessary with this recipe.








~thirdeye~
Green Chili:

5 Lbs. ground pork butt - coarse grind.
HINT:
Remove most of the fat cap and large pieces of internal fat before grinding to prevent excessive greasiness.

1-1/2 Tbsp. salt
2 Tbsp. black pepper
1 Tbsp. garlic salt
1-1/2 Tsp. cumin
1-1/2 bunch green onion, finely chopped in food processor
1 green bell pepper, finely chopped in food processor
16 Tomatillos, pureed in food processor
6 roasted (see notes below) Poblanos, skins peeled, and chopped in food processor
15 roasted (see notes below) Anaheim peppers, skins peeled, and chopped in food processor
4 to 24 fresh Serrano chilies, chopped in food processor.
TIP: The Serrano's control the heat in this chile. With fresh chilies, the heat factor will vary from crop to crop.
For less "heat" reduce only the number of Serrano chilies. 6 to 10 chilies would give this chili a "mild" heat rating, 20 to 24 chilies will give this chili an "ooh-wee baby" rating. If in doubt, it's better to start off with less. It's better to have great flavor than all heat.

3 Tbsp. Chopped garlic
64 oz can chicken broth
Options:
A handfull of cilantro can be used and processed with the peppers, onion and tomatillos.
Here is how the peppers, onion and tomatillos look like out of the food processor. This is why this is called green chili.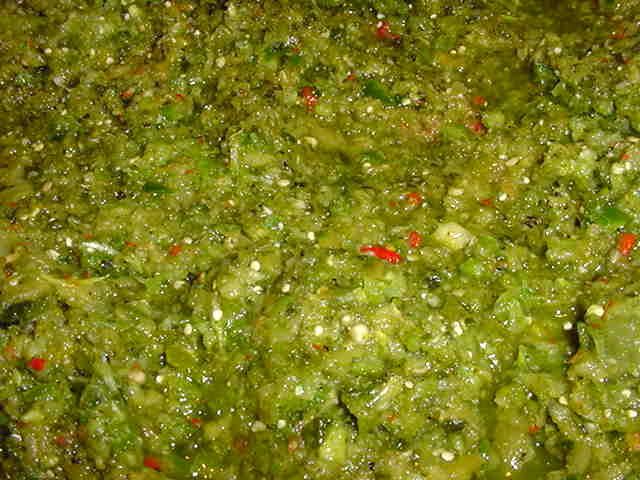 Roux:

2 Cups cold water
1 cup flour
Slowly mix the water and flour together to avoid clumping. This will serve as a thickener and will be used toward the end of the cook.
Cooking Method:
Preheat oven to 400 degrees. Place an even layer of ground pork in a roasting pan and sprinkle the top with all of the dry spices. Do not mix the spices into the pork.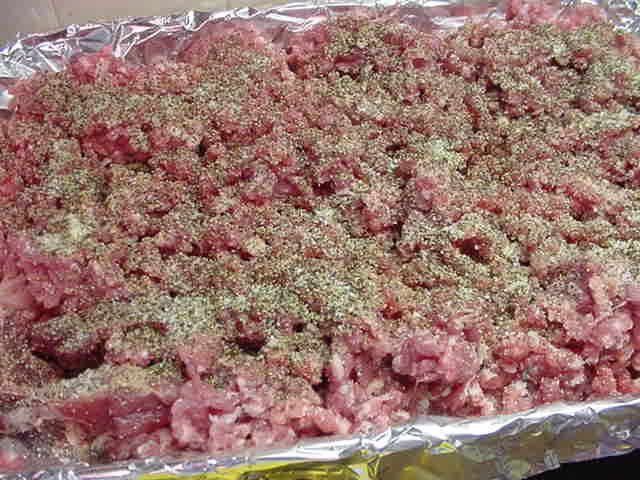 Roast (without turning) for about 45 minutes. After roasting, the pork on the edge of the pan will be done, but the center will NOT be completely cooked.
The bark that forms on top of the ground pork is key to the flavor of this chili. Note that the bones from the butt were included when roasting for even more flavor and they can be added to the chili for an hour or two then removed.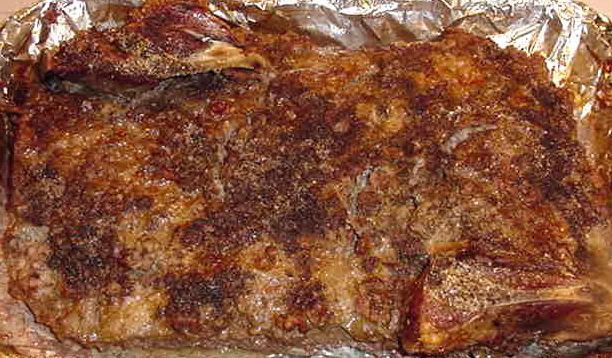 Place all of the meat and drippings into a large stockpot and break up with a fork. Add all other ingredients except Roux. Add enough water to desired thickness. Add more water, if needed, as chili cooks. Cook for 2-3 hrs on low or until chilies have achieved desired doneness. Thicken with Roux to the desired consistency. Allow to cook for 15-20 minutes or until flour "taste" has cooked away and blended.
NOTES:
If you like stew-like green chili, an option is to add some cubes of par boiled potatoes and some coarse chopped sweet onions toward the end of the cook.
INSTRUCTIONS FOR ROASTING CHILIES, AND REMOVING SKINS -
Place fresh chilies on BBQ (medium heat) or in oven at 375 degrees, or use your propane weed burner and roast until the skin is blistered and charred. The upper photo below shows peppers in the
early
stages of roasting. Put the roasted peppers in a paper grocery bag, keep the top closed to steam the skins loose.
To Remove Skins
: Wearing rubber gloves..... Peel the blistered skin by hand, or rinse peppers under kitchen faucet to remove skin and seeds.
TIP: The chilies can be roasted, steamed and frozen in plastic bags with the skins still on, to keep a full year. Put the amount needed for each batch is a single bag, defrost and rinse away skin and seeds.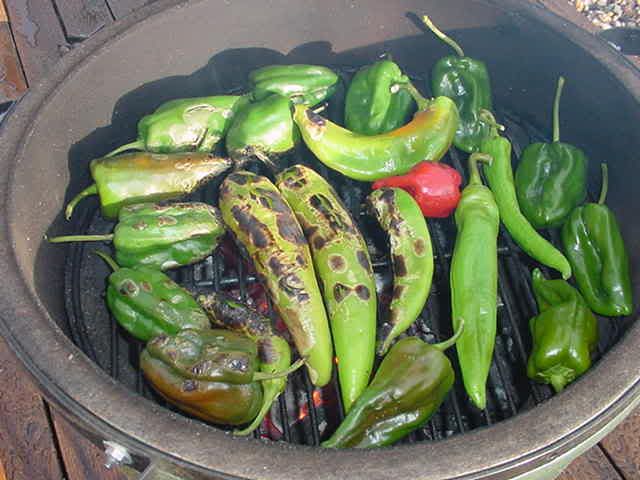 When roasting large quantities of peppers, lay them out and blast with a weed burner. These peppers are ready to go into a paper bag for steaming.