Potato salad could easily be the perfect side dish. It has always appealed to me because it goes with every thing from a hamburger to pulled pork to fried chicken. It can be at home at a picnic, a barbecue, at a buffet or at Thanksgiving dinner. There are many different versions, each with distinct ingredients, and some are even served warm. I think it's fits right in with many of the main meat dishes I have on the site.

Here is favorite recipe that comes by way of "Guest Pit Boss" BBQinMaineiac, a regular contributor on the Primo Grill Forum. It has roots in Austria and differs from the salads with mayonayse, yellow mustard or hard boiled eggs.

~~~~~~~~~~~~~~~~~~~~~~~~~~~~~~~~~~~~~~~~~~~~~~~~~~~~~~~~~~~~~~~~~~~~~~~~~~~~~~~~~~~~~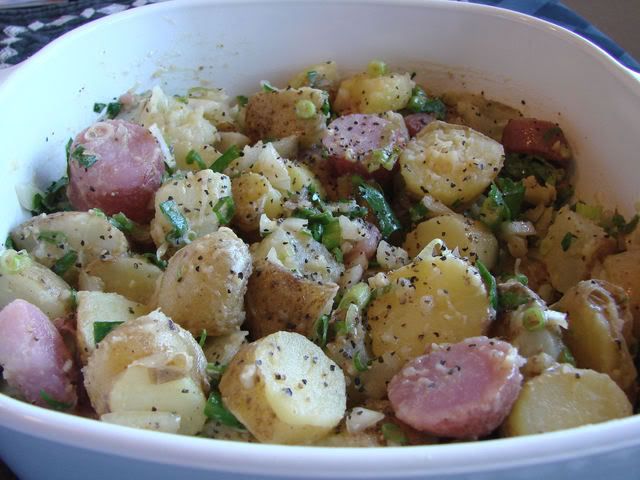 When I was a child we'd get a mess of this from the deli. I was raised on it and knew it as German Potato Salad. By whatever name it goes by, it's just plain good. Here is the recipe I like to use for Austrian Potato Salad. When we had pot luck (or BBQ) at work I'd sometimes make it to rave reviews. For best results use the traditional fingerling potatoes, other potatoes can be used- I'd know the difference but most folks probably wouldn't. Heck, I grow fingerling potatoes for this recipe alone.
BBQinMaineiac
Austrian Potato Salad
Better Homes and Gardens Heritage Cook Book Copyright 1975
Ingredients:
6 medium potatoes, cooked, peeled, and sliced 1/8 to 1/4 inch thick, (fingerling potatoes are traditional)
1/4 cup chopped onion
2 TBLS snipped parsley
1 clove garlic, minced
1 tsp salt
1/4 tsp black or white pepper
Dressing:
1/4 cup wine vinegar
2 TBLS olive oil
1 tsp Dijon mustard
In a bowl place the first six ingredients. Put the dressing ingredients in a bowl and mix well. Pour the dressing over the salad ingredients in the bowl, toss lightly, then chill thoroughly. Garnish with additional parsley if desired. 8 servings.
Notes:
I've added some chives; that works and adds color. As much as I love garlic there is such a thing as too much garlic with this recipe, so go easy with it. You want the flavor of the fingerling potatoes to be enhanced by the garlic, not overpowered. But by all means none of the ingredients quantities are chiseled in stone.
Enjoy!