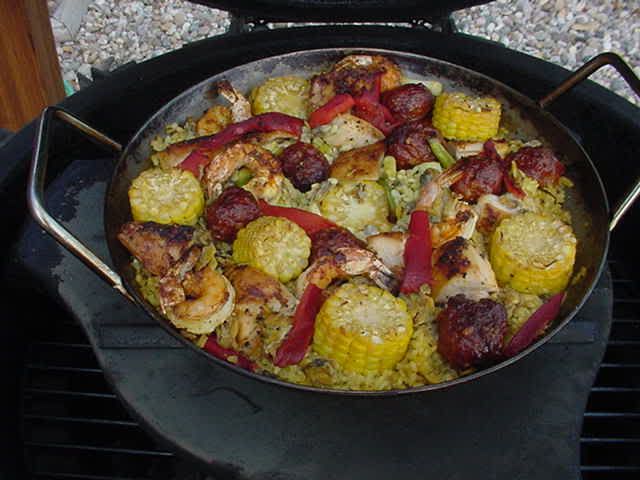 1C short grain rice
1 – 14 oz can of chicken broth
1 C of hot water
4 green onions, coarsely chopped
handful of frozen peas
½ C roasted red peppers
1 ear of corn, sliced into 1" rounds
½ can of clams and 2 or 3 ounces of the juice
½ lb. chorizo sausage, formed into meatballs
1 chicken breast, bone in with skin removed (wings are good too)
6 shrimp, peeled
1/4t salt
rub for chicken & shrimp

Stabilize the Egg at 375 degrees dome. Season the chicken and the shrimp. Lightly grill the shrimp, grill the chicken and sausage about halfway done, remove from the grill and set the plate setter on the grill, legs down. Chop the chicken into several pieces, leaving the rib bones in place.

Combine all ingredients in a pan suitable for the Egg except for the 1 cup of hot water. This can be added during the cook if needed. Cook until rice is done, about 45 minutes, rotating 90 degrees once or so. Remove and cover with foil for 15 minutes. I like a little of Tony Chachere's "Original Creole Seasoning" added at the table. It is great on the corn.

Paella is like many things that can and should be adapted to your personal tastes. Since posting this page, a couple of folks have told me they are making vegetarian versions with corn, peas, mushrooms, snow peas, squash etc. I also like using all seafood especially when I can get fresh clams and mussels. ~thirdeye~


In a message to me on the Big Green Egg forum, "bobbyb " posted a couple of photographs of his paella cook that looked so good I wanted to pass them along. He made a couple of changes to my basic recipe, so they are included as well. So here is a Guest Pit Boss version of bobbyb's paella.

Bobbyb used skinless thighs seasoned with Ken Stone's Red Rooster rub. He smoked the chicken and the chorizo with pecan wood. The shrimp were left unpeeled and seasoned with Old Bay seasoning.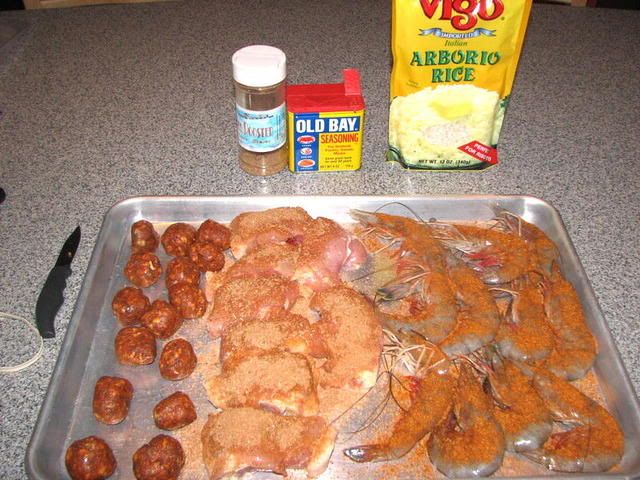 The raw seasoned shrimp were added to the dish during the last 12 minutes of the cook and appear to be cooked perfectly.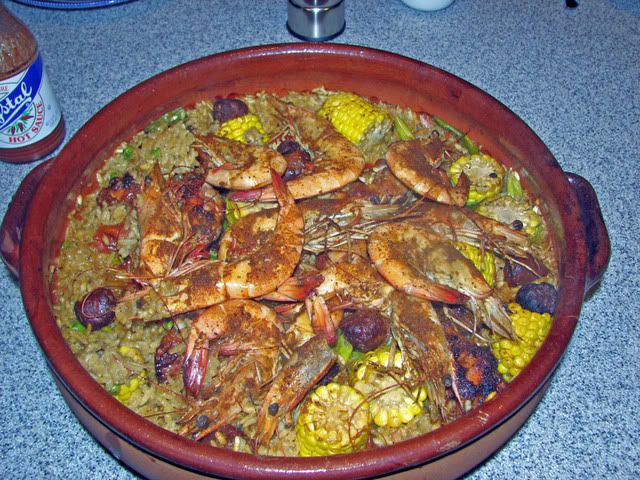 After reading a paella tutorial by The Naked Whiz on his website, I asked for permission to include a link here. His how to features two recipes and includes a discussion of the rice, sofrito, soccarat, equipment and techniques. Clicking Here will take you directly to the paella page published by "The Naked Whiz". Here are a couple of pictures of what I am talking about. The top paella is chicken and the next one is seafood.